Get ready, ladies… Jewel Radio's 11th Annual Ladies Getaway Weekend is set for the weekend of April 12-April 14.  We are proud to have Ashley Homestore – Ottawa – as this year's sponsor!  We Are Now OVER 75% sold.  


From April 12th to 14th, we're back at the historic Fairmont Le Chateau Montebello with deluxe accommodations and delectable cuisine.
Pack your outfit for the famous Friday Night Pajama Party, and dancing Friday and Saturday night with DJ Kris. Plus Dynamix Productions will be back with their Photo Booth to capture your getaway weekend moments!
We'll also have vendors on site including 5th Avenue Jewelry, Clarence & Cripps, a quaint British store in Hudson Quebec, Aura Chakra Photograph, and DoTerra Essential Oils with Allison Cochrane!
Plus insightful seminars from
Pamela Barton, a registered holistic nutritionist and founder of Butterfly Holistic Nutrition + Lifestyle. Pamela works with high-achieving executives, action-driven entrepreneurs and government officials who struggle with their energy levels, fatigue and irritability. She helps them get their health back, feel more balanced and energetic so that they are able to increase their performance at work and enjoy their lives. "My straight-forward approach is unique to each person and addresses individual needs, with the emphasis of hormonal balance and thyroid health."
They will be featuring custom skin care at our getaway, plus travel medicine, sports bracing, diabetes education, comparession stockings, and more!
Get expert travel advice with Debbie Poisson – Travel Agent Extraordinaire. If its on your bucket list, she can make it happen.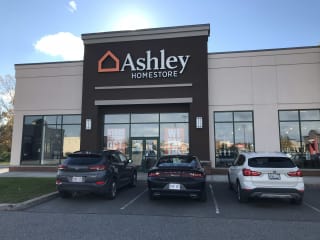 The team at Ashley Home Store Ottawa will provide a seminar on home decorations! 
Plus, Nygard will host a fashion show!

Experience It Saturday by visiting their seminar room! 
Wrap up the weekend with Sunday's guest speaker, comedian, author, and professional speaker, Susan Stewart. Susan has spent the last decade entertaining and inspiring people to see the lighter side of life. Susan is the author of Reaching The Laugh Resort, Your New Lenses Are Ready For Pick Up: A Guide To Seeing The Lighter Side Of Life, and You Gotta Laugh: Wit And Wisdom About Not Taking Life (Or Yourself) Too Seriously
Susan Stewart's Appearance Is Sponsored By
Don't Wait.  Call 613-241-9850 to reserve your weekend away before it's too late! 
It's a weekend just for you at Jewel Radio's 11th Annual Ladies Getaway Weekend – this year, sponsored by Ashley Homestore Ottawa!  Now OVER 75% Sold!

For more information about the hotel, please visit https://www.fairmont.com/montebello/
For directions to the hotel, please visit https://www.fairmont.com/montebello/map/mapanddirections/
FREQUENTLY ASKED QUESTIONS
At what time should I arrive on Friday April 12, 2019?
You may arrive as early as 4:00pm and no later than 6:00pm.
At what time is check out on Sunday April 14, 2019?
Check out time is 12:00pm noon. PLEASE NOTE: If you wish to check out later, the hotel may charge you (personally) a Late Check Out fee. If you wish to check out later than 12:00pm noon, please discuss this in advance with the front desk.
What is NOT included in my Ladies Getaway Weekend package?
A la carte meals or any additional meals other than those specified as included in your package;
Snacks;
Drinks – alcohol or other drinks ordered any time except for coffee and tea included with meals;
Personal items.
Do I have to attend any seminars or participate in any activity?
Absolutely not! You choose if you wish to attend any seminar or activity. However, any meals, seminars, or activities you miss cannot and will not be made up or compensated for in any way.
Should I leave a tip?
A service charge has been included in the rate you have paid. However, for any additional services (ex: meals, drinks, etc.) it is appropriate to leave a tip.
What should I wear?
Wear what makes you feel most comfortable. As a guideline, our attendees wear comfortable, casual clothing during the day and change to casual-dressy attire for dinner. You may also wish to bring your bathing suit – there is an indoor pool!
Do I need a car while at Fairmont le Château Montebello?
Once you arrive on Friday, you have no need for a car except to return home on Sunday.
If I am unable to attend LGW after having paid, may I get a refund?
Ladies Getaway Weekend is NON-REFUNDABLE.